maandag 2 juli 2018
Deense thriller THE GUILTY (Den Skyldige) valt in de prijzen op Brussels International Film Festival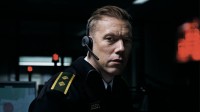 De thriller THE GUILTY (Den Skyldige) van de Deense debutant Gustav Möller is dit weekend in de prijzen gevallen tijdens de eerste editie van Brussels International Film Festival. De film won daar zowel de RTBF Award als de BE TV Award. 
In een meldkamer van de alarmcentrale beantwoordt Asger Holm een noodoproep van een ontvoerde vrouw. Wanneer de verbinding plotseling wordt verbroken begint de zoektocht naar de vrouw en haar ontvoerder. Met zijn telefoon als enige hulpmiddel begint Asger aan een race tegen de klok om de vrouw te redden. Al snel blijkt dat het misdrijf waar hij mee te maken heeft, veel groter is dan hij eigenlijk dacht.
De film ging in wereldpremière tijdens Sundance Film Festival en won daar de Audience Award. De Amerikaanse pers recenseerde de film in superlatieven. Begin 2018 won THE GUILTY tevens de Audience Award tijdens het International Flm Festival Rotterdam. Deze crowdpleaser is vanaf 18 juli te zien in de bioscoop.