dinsdag 18 april 2017
LES FANTÔMES D'ISMAËL openingsfilm Cannes Film Festival 2017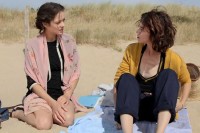 De film LES FANTÔMES D'ISMAËL van Arnoud Desplechin (UN CONTE DE NOËL, JIMMY P.) opent de 70e editie van het Cannes Film Festival. De hoofdrollen zijn voor Mathieu Amalric (THE GRAND BUDAPEST HOTEL, MUNICH, THE DIVING BELL AND THE BUTTERFLY), Marion Cotillard (DE ROUILLE ET D'OS, DEUX JOURS, UNE NUIT) en Charlotte Gainsbourg (NYMPHOMANIAC, ANTICHRIST). 
LES FANTÔMES D'ISMAËL gaat over een filmmaker wiens leven vlak voor de opnames van zijn nieuwste speelfilm op zijn kop wordt gezet door de terugkeer van een verloren liefde.
LES FANTÔMES D'ISMAËL zal later dit jaar in de Nederlandse bioscoop verschijnen. De zeventigste editie van Cannes Film Festival vindt plaats van 17 tot en met 28 mei.